Videos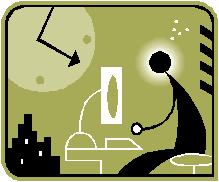 All Areas: History Videos: News Videos: Science Videos: YouTube Videos:
CurriculumBits Free videos. Click on a subject area or type in a topic in the search engine. Videos come up showing with a price, however, they are all available for free preview as many times as you need to use them. The videos are appropriate for use with a data projector.
Documentary.net documentaries from less than 10 minutes to 30 minutes on all topics
Documentary/Nonfiction Films a collection of 90+ sites with screenshots of free videos!
Education Planet offers an ever-growing list of high-quality educational videos reviewed by teachers for teachers.
Google Videos a Google search engine specifically for videos!
HippoCampus videos for algebra, biology, American government, calculus, environmental science, physics, psychology, religion, statistics and U.S. history.
How Stuff Works topics include science, math, and technology.
Internet Video Magazine spotlights the best videos and Internet films and movies on the net, as well as great web sites that demonstrate amazing creativity and skill regarding how they integrate video into the site. The site includes a section called "Videos for Kids and Teachers - Internet Video and Multimedia Resources for Teachers, Students and Education".
Khan Academy It is a popular fast growing library provides thousands of videos with alternative, engaging instruction in math, science, finance, and history. Constantly expanding and improving, this is a rich resource for instruction and learning.
Math in Action from Thinkport shows your students how math is used in real life as they meet people whose daily lives include math. From a cake decorator, to an artist, to an urban planner, students will view and appreciate math in a whole, new way.
MIT+K-12 Videos is a new MIT project that features MIT students explaining math and science concepts for K-12 students. The website isn't a collection of Khan Academy-style videos it's a place where you will find videos featuring real MIT students explaining concepts while showing them as hands-on demonstrations or experiments.
NeoK12 Educational videos for grades K-12 divided by subject area
Next Vista Three categories of videos: 1) how to do something, 2) cultural understanding and 3) service-learning.
Online Video Links Collection of links from a high school of sources for free online videos.
PBS Videos offers videos from the most popular shows including Frontline, NOVA, Nature, and American Experience.
School Tube is a website dedicated to the sharing of videos created by students and teachers. School Tube allows teachers and schools to create their own channels for sharing their students' works.
Snag Films Free videos including National Geographic for download!
TeacherTube videos by teachers and for teachers
Teacher's Domain Free multimedia library that offers teachers access to classroom-ready video clips from public television programs such as NOVA, A Science Odyssey, and ZOOM. This site is also excellent for student research.
Teachers.TV free educational/instructional videos and resources for teachers. Videos are divided into subject areas and by primary or secondary.
TED Talks inspirational, thought-provoking, educational and entertaining presentations given by experts on a wide variety of topics including education.
WatchKnow educational videos are collected from all over the Internet, given an annotation, placed into a general category "folder" and are available from the site. They are not available for download from the site but are viewable from the site and usable with a data projector. If you want to download the video, the source is listed as well as the title.

FedFlix a collection of nearly 2000 films produced by the US government during the 20th Century.
Open Vault provides online access to unique and historically important content produced by public television station WGBH between 1968 - 1993 for individual and classroom learning. Each record includes a video description, and when applicable, program and series descriptions. Open Vault includes over 500 streaming video clips and more than 1,000 interviews.

CNN Student News a daily web show highlighting a handful of stories ranging from traditional serious news topics to how-to stories appealing mostly to students to light and fun stories.

100 Amazing Videos for Teaching and Studying Physics
BBC Solar System- NASA isn't the only one with videos!
Biology Department at Davidson College has a large collection of videos and animation on cell biology processes.
Brightstorm Science Videos for biology, chemistry and physics
Cell Biology Animation visit here for colorful animations of cell biology for use with a data projector or white board.
Explore More's Water Cycle animation of the water cycle that would be great for use with a data projector
Evolution Videos for students from PBS-- seven beautifully filmed short videos designed for in-class viewing and learning. These videos creatively combine storytelling and science.
The Green House Effect from National Geographic includes video and quiz
Harvard-Smithsonian Center for Astrophysics Digital Video Library contains an extensive collection of streaming video materials to enhance understanding and teaching of K-12 STEM learning goals.
The Naked Scientists' Experiments from their Radio & Science Podcasts whose experiments are made for the kitchen.
National Geographic Environmental Videos includes global warming, natural disasters, energy, fresh water, habitats, going green, and threats to animals
Periodic Table of Videos a wide array of videos about the elements and other chemistry topics
Science 360 video library gathers the latest science videos provided by scientists, colleges and universities, science and engineering centers, the National Science Foundation and more.
Science Animations for biology, chemistry, physics and general science
Science Lab Safety Rap Video on TeacherTube
Science Lab Safety Video on TeacherTube
Scientists at the Smithsonian- 25 different scientists discuss what their jobs are like
Sumanas Animations animated tutorials for biology, microbiology, ecology, molecular biology, chemistry, astronomy, environmental science, and neuroscience.
Untamed Science biology and biodiversity videos
University of Minnesota Physics Lecture Demonstrations
The Wild Classroom Biology Videos and Podcasting via Ecogeeks
Wired Science videos on science and technology

YouTube has educational video channels including 4teachers.org, Library of Congress, University of California Berkeley, University of Southern California, MIT, Duke University, Purdue University, National Geographic, NASA, NOVA, Presidential Libraries, and others. More information at "Educational Videos: 197 Educational YouTube Channels You Should Know About".
All Histories more than 300 videos on ancient world history and US history from ancient history to US history 1930s
Archival History Videos from the National Archives from the Hindeberg and the Wright Brothers to Rebuilding Indian Country and the Katyn Massacre.
ASAP Science Understand the science in your own life. Weekly videos cover all sorts of quirky and mind blowing science.
Bad Astronomer is devoted to debunking myths and misconceptions about astronomy, and also to slap down without apology bad thinking in all its forms.
Bozeman Science from a Montana science Teacher of the Year comes biology, chemistry and physics lessons
Brusspup dedicated to science and illusions. Scientific experiments are easily replicated because they list all the materials as well as the exact measurements to make the experiments work properly.
Crash Course Need a refresher in history or science? This YouTube channel has it. Videos include the Cold War, nuclear chemistry, network solids and carbon, and women's suffrage.
Hip Hughes History is a series of upbeat, personable and educational lectures designed for students and lifelong learners. Videos primarily focus on US History and Politics but span across World History and general interest.
Minute Physics brief but insightful time-lapse drawing videos of Henry Reich explain abstruse scientific theories like Schödinger's Cat or the Higgs Boson
Numberphile dedicated to exploring the stories behind numbers.
Patrick JMT - "free math videos for the world!"
Sci Show is all about teaching scientific concepts in an accessible and easy-to-understand manner. This channel includes a variety of short (3 minute) and long (10 minute) videos. New videos are released weekly.
Sick Science By sick, this channel clearly means awesome or amazing science. They show many different kinds of scientific experiments and demonstrations that are very visually interesting. Every experiment is clearly and thoroughly explained how to do and with what materials to do them so that users can try them at home.
TED-Education Veritasium Science Trailer This is a science vlog. It has many videos of experiments, interviews from scientific experts, demonstrations, and public discussions about science. A good example of a video from this channel is "Why the Sky Isn't Blue."
Tracing World War II from the US National Archives
World War II Films from the US National Archives
---
Created by Linda DeVore
Last Updated Monday, May 12, 2014